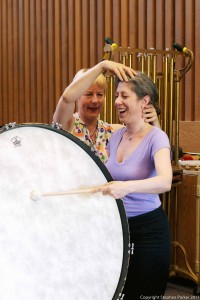 Josephine Gray teaches the Alexander Technique in San Francisco.
Josephine started studying the Alexander Technique in 1983 in San Francisco to rescue her career as a professional violinist from a debilitating repetitive strain injury. She then completed a three year/1600 hour training course. She has also studied the Technique in London and Rome and has a bachelor's degree in music performance.
Josephine has taught the Technique for five years to actors at the American Conservatory Theater Summer Congress and to singers at the Opera Academy of California. She has also taught the Technique to employees at Chevron/Texaco (IT division) Josephine joined the faculty as Alexander Technique instructor at the Music Department of the University of San Francisco in 2010.
Recently certified to teach Jessica Wolf's Art of Breathing, Josephine is the only teacher in the Bay Area, and she incorporates it into her Alexander Technique teaching as a vital component of learning to make choices about what is interfering with our natural poise and ease of movement.
"Breathing is indispensable and it works best when it is effortless. It happens automatically, and most people never think about it. We are always being affected by it whether we're aware of it or not. The Art of Breathing seeks to teach people that although breathing is involuntary, we can become conscious of how we breathe, and when one is conscious, one can make choices.
"When our breathing becomes compromised, it causes problems in our physical and emotional well-being. When we chose not to hold our breath and instead invite our breath to move, we find ease in our body and our voice." -Jessica Wolf
Listen to a short interview in which Josephine talks about the Alexander Technique:
In the News:
---