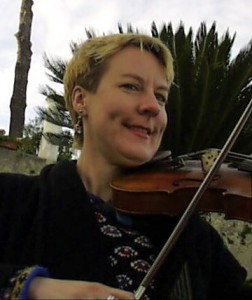 Equally at home with improvisation and scores, Josephine is primarily a classical violinist and jazz singer (see videos below).
Her career as a professional musician complements and enhances her Alexander Technique teaching career, especially as she teaches it on the Music faculty at University of San Francisco. She can play piano, guitar and clarinet, as well.
It is not necessary to be a musician to teach Alexander Technique to musicians, but it can help with specific details such as embouchure and hand shapes, advice on shoulder rests and bar chords, performance anxiety and breathing issues.
It is hoped that no Alexander technique teacher claims that taking lessons will guarantee a future without tendinitis, repetitive strain or performance anxiety. The goal is to understand the root of the issue and find ways that episodes become less frequent, less intense and shorter.
Further information:
Josephine in action:
"Alhambra" Graeme Gash 1982 Josephine Gray on Violin: